Elyria Mold Inspections Before Purchasing a Home & More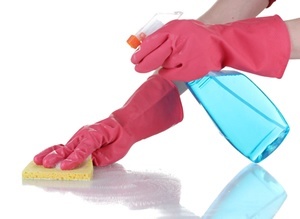 M.A.D. Cleaning LLC is the Elyria mold inspection company you can rely on for professional mold testing and honest, thorough reports. We serve both residential and commercial clients, and we are fully certified mold inspectors and mold remediators. We offer a complete range of mold remediation in Elyria, and can ensure your mold problems are taken care of completely with our mold removal, sanitizing, and disinfecting services.

Don't sit around guessing whether or not your property is infected with mold. Call the Elyria mold inspection experts at M.A.D. Cleaning LLC today to schedule an assessment with our talented crew of qualified technicians. We will answer all your questions and provide you with solutions to improve your indoor air quality situation based on our report.
It's better to be safe than sorry when it comes to mold infestations. Mold is dangerous to your health as well as the integrity of your property. So don't hesitate to get a professional opinion from a qualified Elyria mold inspection contractor today.
Importance of Elyria Mold Inspections Before You Buy a Home
There's a lovely, picturesque house located in a beautiful neighborhood in the Elyria area. It has been posted for sale two or three times over the past several years. Each time, there is a different realtor's sign. Curious, but not uncommon.
Upon getting in touch with the previous tenant, we learn that there was a huge mold problem at that Elyria home, and it's part of the reason why the family moved from there. Upon further investigation we find that the current owner has invested some money trying to correct the problem, but their efforts didn't solve the problem – the didn't hire a certified Elyria mold remediation contractor to really treat the issue, which would require a lot of renovation work at this point. Yet the property is still on the market, waiting for some unsuspecting home buyer to take the plunge.
You'd think such a dangerous problem would make it illegal to sell the house, but this is apparently not the case. There are hundreds of stories like this all over the place, each from home buyers or concerned tenants that have dealt with similar situations.
The story describe above may or may not be true of some of the houses for sale in the Elyria area. The point is: it has happened before, and you should be aware of how important it is to get a professional Elyria mold inspection before buying a home.
We have heard from so many homeowners about how surprised they were to find mold hidden in a room such as the basement, attic, bathroom closet, etc. At M.A.D. Cleaning LLC we cannot stress enough how important it is to have the potential home you plan to by inspected for mold. Because once you buy, it's your problem – at least, that's the approach many sellers will take. And mold remediation for dramatic infestations such as some of the ones we've seen in Elyria can be expensive to repair. The last thing you want to deal with upon buying your "dream home" is to find out what a nightmare was hiding just below the surface! Not to mention, dealing with that extra expense when after purchasing the home, you're probably strapped for cash.
You may be able to file a lawsuit, but most homes are sold "as is." So you may find yourself stuck with the problem. Many home inspections don't include mold testing, either, so you can't put your trust in that to keep you safe. You need to hire a separate company for mold inspection in Elyria in order to get an honest evaluation that targets your concern.  
Make sure that the Elyria mold inspection company you hire is a certified mold inspector in the state of Ohio. Check the reviews online as well before you decide who to go with. If you locate a mold problem, you will want to know that the company you chose is capable of performing Elyria mold remediation properly. If not done correctly, the mold problem is capable of coming back much worse than before!
So remember: before you buy, call M.A.D. Cleaning LLC and schedule service with our certified Elyria mold inspection specialists.
If you are looking for an Elyria mold inspection company then please call M.A.D. Cleaning at 419-202-4165 or complete our online request form.