Cleveland Mold Cleaning: Disinfecting & Sanitizing Buildings Affected by Mold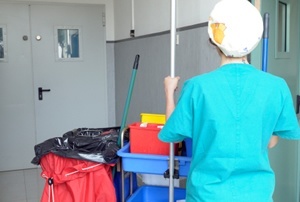 M.A.D. Cleaning LLC is highly skilled when it comes to disinfecting and sanitizing properties that have been affected by mold infestations. We use only the best cleaners and disinfectants from top rated manufacturers such as Air Care, Fiberlock Technologies, Microban, and Zep - some of the leading names in antimicrobial disinfectants and sanitizer for both residential and commercial applications.
At M.A.D. Cleaning LLC, our Cleveland mold cleaning specialist have the tools, training, and experience to ensure your property is thoroughly cleaned, disinfected and sanitized. Certified mold inspectors and mold remediation contractors make up our mold cleaning team, and you can count on us to take care of any mold removal task with precision and ease. Whether it is a home, an apartment complex, an office, or a large commercial property, M.A.D. Cleaning LLC is the name you can trust to get the mold cleaning job done correctly, safely, and with superior quality results.
Mold Cleaning Tips: Why Bleach Just Doesn't Cut It
Many homeowners think that cleaning mold from their property isn't a big deal. Just a dab of bleach and their favorite cleaner and viola - seems to do the trick!
This couldn't be further from the trust. It takes a lot to kill mold, and while you may do some damage to the visible mold, you probably won't do anything to fully stop and eradicate the mold growth. That's why Cleveland mold cleaning professionals like M.A.D. Cleaning LLC use specialized cleaners and thorough mold removal tactics. We don't just get rid of the visible mold - we tackle the growth problem and get into place you can't readily see, such as the ductwork of your HVAC system.
Once mold infests a house, it can get EVERYWHERE. Behind and inside walls, under flooring, in air ducts ... before you know it, the mold is everywhere. But what's worse is that most homeowners don't realize the mold is everywhere. Hidden mold can pose a serious danger to your health and the health of those living with you. This is why it is so important to hire a professional Cleveland mold cleaning company for proper disinfecting and sanitizing services whenever you spot a mold problem.
Whether you currently have a mold problem and need mold remediation services, or your property has been affected by mold in the past, M.A.D. Cleaning LLC can ensure your building is thoroughly disinfected and sanitized.
Why Disinfecting & Sanitizing is Important in the Mold Cleaning Process
Like we mentioned earlier, many people mistakenly believe that all they have to do is remove mold and they will be rid of the problem. This is not the case. The property affected by mold must be properly treated to make sure the mold does not return, as well as to improve the indoor air quality so the health of those inhabiting or working in the building is not adversely affected. That is why the mold removal process includes cleaning, disinfecting, and sanitizing the problem areas.
Another important part of Cleveland mold cleaning and remediation is to eliminate moisture and humidity while improving ventilation. Dehumidifiers will help remove the residual moisture from surfaces and indoor air, and improving the ventilation will help keep mold from returning. However, many people in Cleveland and the surrounding areas of Ohio find themselves with a mold problem after some type of flooding or water damage occurs. For example, when a plumbing pipe bursts or the basement floods. Without proper water extraction, structural drying, and treatment, the chances for long term problems such as mildew and mold growth increase. But it's not necessarily the mold that causes health concerns - it's the spores.
Mold spores are airborne and may, if inhaled, have an adverse effect on a person's health. If black mold is involved, it can even be fatal. This is part of the reason why it is so important to have your property disinfected and sanitized during the mold cleaning process!
During the work completed by our Cleveland mold cleaning specialists, we take special care to clean, disinfect, and sanitize every area of the property that has been affected by mold. This includes using specialized equipment and products to clean the air and rid the location of mold spores as well as mold growth.
If you need mold cleaning in Cleveland or the surrounding areas, contact the experts at M.A.D. Cleaning LLC today, and protect your health.
Not sure if your property has a mold problem? Call our certified Cleveland mold inspection experts to schedule a thorough mold assessment.

If you are looking for a Cleveland mold cleaning company then please call M.A.D. Cleaning at 419-202-4165 or complete our online request form.