Trauma Scene Clean Up & Biohazard Cleanup Service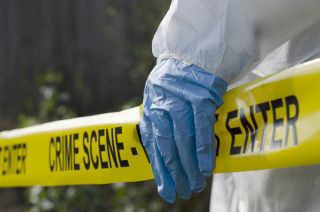 After a traumatic event or death, it is extremely difficult to be the one responsible for the cleanup. It's necessary to hire professionals who use discretion, sensitivity, and detailed procedures which comply with state and federal health and safety guidelines. This takes expert training and the proper equipment to perform the work.
M.A.D. Cleaning LLC professionals are here to ensure the safe trauma scene & biohazard cleanup to restore your property to a safe, clean, and healthy state.
We handle the cleaning after all types of situations including trauma scene cleanup, mold remediation, water damage restoration, suicides, crime scenes, accidents, hoarding, animal waste or remains, homicide cleanups, and more.
We also handle biohazard cleanup for residents who suffer from a sewage backup or need to clean the attic or crawlspaces after a rodent infestation problem has been removed.
Our professionals remove and dispose of bodily fluids, tissue, and other substances after trauma, an accident, death, or crime. We use procedures that adhere to strict industry guidelines and protocols. You can be assured that our Cleveland mold inspection and biohazard cleanup professionals will handle the process with expertise. We will treat you and your property with the utmost respect.
Accidents
Homicides
Unattended Deaths
Mass Trauma
Industrial Accidents
Animal Biohazards
Disease Contamination
Suicides
Crime Scenes
Hoarding
Sewage Backups
Trauma Scene & Biohazard Cleanup Service & Remediation
When an individual dies or suffers sever injury, disease-causing agents can escape into the environment. This can be a huge health concern if the environment is not properly cleaned. In cases where a body begins to decompose, the surrounding building materials and furnishings can become contaminated. There can be a variety of toxic agents released into the environment. There are times when hazardous substances penetrate underneath carpeting or into furnishings.
M.A.D. Cleaning LLC professionals perform a number of detailed tasks to remove toxins from building materials. This includes removing the biohazard from supporting understructures. We have the necessary equipment for safe transport and disposal of biohardous waste materials. We make sure that contaminants and moisture are removed and that the structure is properly cleaned and disinfected. Get help today, just call our number below.
If you are looking for a Cleveland company in any of our service areas then please call M.A.D. Cleaning at 419-202-4165 or complete our online request form.